When you are shopping for a new or used vehicle, the interior is one of the things to consider before making a purchase. You must inspect the seats, dashboard and door interiors for damage such as rips or stains, and you should also determine if the vehicle has a strange odor from the upholstery or other soft surfaces. Removing a buildup of pet stains or cigarette odor from a vehicle isn't an easy process. One of the best things that you can do is choose a leather interior. Leather automobile interiors offer numerous benefits for you.
1: Leather Seats are Comfortable to Sit On
If you must ride in a vehicle for several hours, leather upholstery is an excellent surface to sit on. Leather is soft, and it also doesn't get as hot in the sun, making it easier to sit on a seat without burning your legs. When you have leather seats, the fiberfill in the upholstery is made from a higher quality material, creating a luxurious seating surface.
2: Leather Is a Hypoallergenic Material
When you suffer from pollen, pet dander or dust allergies, it is important to have a hypoallergenic surface in your vehicle. Very few people are allergic to leather, so it is a good choice for upholstery and the other soft surfaces in your automobile. In addition, leather doesn't absorb dirt the way that cloth-based fabric does, so you won't need to worry about having fiberfill that contains substances that will make you cough and sneeze.
.
3: Leather Is Easy to Keep Clean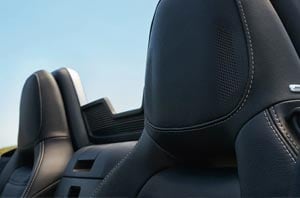 Leather upholstery and dashboards are easy to keep clean with a soft cloth and a small amount of water. If you spill food on a leather seat, you can use mild dish detergent mixed with water to wash away the debris. The leather surfaces will dry right away so that you can use the vehicle without needing to wait for several hours for fabric upholstery to dry completely.
4: Natural or Dyed Leather Choices
When you are searching for a vehicle, you can find automobiles that have dyed or natural leather seats and dashboards. If the leather materials in a vehicle aren't the color that you like, then you can hire a leather repair expert to change the color with dye. At the same time, the leather repair technician can apply substances that will protect the leather surfaces to make the items more water-resistant.
5: Keeping a Vehicle's Resale Value
If you want to maintain your vehicle's resale value, then buying one that has leather seats and dashboards is suggested. Vinyl materials tend to decay and peel while fabric seats become filthy and worn, but leather seats continue to look beautiful and remain in good condition.
Visit Our Dealership For More Information
If you are looking for a vehicle that has a leather interior, then you should check out the new and used vehicles on our lot. You can also look at our dealership's website, or you can call our knowledgeable salespeople to schedule a test drive.