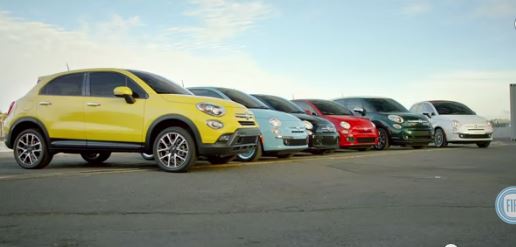 Now that the Fiat 500X crossover has officially joined the ranks of Fiat's lineup, the automaker is ready to debut its entire family of Fiats. As per usual, the automaker is doing its introductions through its extremely creative commercials, with the most recent outing being a fabulous premiere of its full line.
This latest ad - called "Big Italian Family" - is a fast-paced and surprisingly emotional commercial that goes to the heart of Fiat's broader branding statement. In the ad, a tiny Fiat 500 is being ruthlessly pursued by a large SUV - I'm thinking a Chevy. The little guy is chased throughout the city streets, with the viewer becoming more and more concerned for the tiny car - props to the ad team for making me fear for a hatchback. By the end of the ad, things don't look too good for our hero, that is until its big family of Italian cars comes to the rescue - including the new 500X.
This clever ad is another terrific entry in a number of smart ads from Fiat. It's a great way to not only introduce the Fiat 500X into the automaker's lineup, but also a fantastic way to remind customers about Fiat's full line of autos. For more information about the Fiat 500X or about any of the models offered in Fiat's lineup, contact us at Alfa Romeo & Fiat of Scottsdale or stop by our conveniently located Fiat dealership near Phoenix.