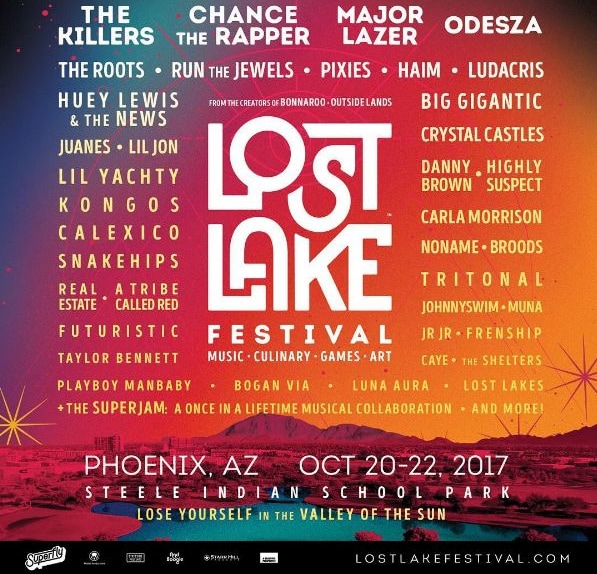 Lost Lake Festival is bringing some of the nation's top acts to the heart of Phoenix. The three-day event features acclaimed bands and entertainers such as The Killers, The Roots, Run the Jewels, Chance the Rapper, Pixies, Haim and many others. If you want to keep the party going, there are also Lost Lake "Late Nights" at Crescent Ballroom, where you can see even more of your favorite artists.
The festival is making headlines for its culinary aspects as well. James Beard award-winning chef Chris Bianco has lined up some of the best culinary talent in the Valley to attend the event. There will be over 24 popular food trucks and restaurants at the festival, including Ocotillo, Frites Street, Clever Koi and more.
In addition, numerous breweries will be onsite, such as Phoenix Ale Brewery, Grand Canyon Brewing Company, Santan Brewing Company, Mike Hess Brewing and many others. Or, you can visit Nectar of the Gods to sip on mescal, anejo, reposado and blanco.
Local art and interactive games, like giant cornhole, will provide additional entertainment. Get more details about the festival on the official website.
Steele Indian School Park
300 E. Indian School Rd.
Phoenix, AZ 85012
Friday, Oct. 20, 2017
2 p.m. - 11 p.m.
Saturday, Oct. 21, 2017
12:30 p.m. - 11 p.m.
Sunday, Oct. 22, 2017
12:30 p.m. - 10:30 p.m.