Meet the 2018 Fiat 500X Blue Sky Edition
Small wagons make great family vehicles. They're also ideal for individuals with busy lifestyles who need a little bit of extra rear storage. If you're searching for the perfect small station wagon, we cordially invite you to look at a few details of the Fiat 500X Blue Sky Edition.
The 2.4 L I-4 MultiAir® engine cranks out 180 @ 6400 and features a 9-speed automatic transmission with overdrive, giving you a premium experience without too much overload. After all, not many folks are going off-roading in a small station wagon, so Fiat did a terrific job of balancing out power with smoothness to create a premium handling experience. Let's take a look at a few other things you'll be excited to learn about the Blue Sky edition.
What Innovative Features Are Included in this Edition?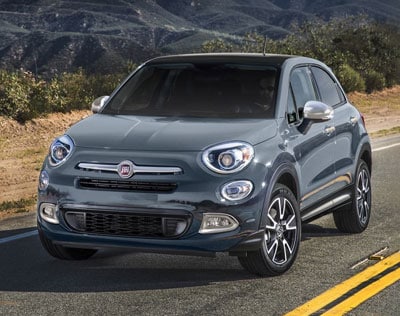 This small station wagon seats 5 people, and that's what the average small station wagon owner needs. It features all-wheel drive, options for both dual moonroofs AND sunroofs, and a rear spoiler for maximum interior and exterior glitz and glam. It also comes pre-loaded with all-season tires for maximum grip on the road while you're driving.
Want a leather-wrapped steering wheel? It's optional, but it's there for the taking. You'll also have great options for cloth bucket seats should you decide to go the extra mile and make your wagon a little more glamorous. It also comes preloaded with a host of standard safety features including Electronic Stability Control, Brake Assist, and Traction control for those folks out there that have to have it safe while they're on every journey. And that's not all.
A Few More Features to Consider
Smart device integration for tech savvy drivers
MP3 Player
Keyless entry
Cruise control for an easier ride on the highway
Back-up camera
Steering wheel mounted audio controls
Variable Speed Intermittent Wipers
Security System
And while it can easily fit into the "small station wagon" category, the body style is as much compact SUV as it is wagon, so you're looking at a lot of exterior style as well with a much more "SUV" look and feel than station wagon. If this suits you, and you love the other things you've read about the Blue Sky Edition, it's time to get on the phone or request more information via our website.
Call or Visit Today in order to Test Drive the 2018 Fiat 500X Blue Sky Edition
As we've seen, the 2018 FIAT 500X Blue Sky Edition kicks things off with some remarkable features, including all-season tires, all-wheel drive, and a powerful powertrain for the vehicle type. There's also plenty of neat tech integrated into your vehicle system as well, so there's a lot to love about this one. If it looks like something you and your family would love to drive away in, all you need to do is get on the phone today and give our dealership a call.
We're going to put you behind the wheel of this one and let you test drive it until you're sure it's the vehicle you want. It's so easy to read over a few features online, but you never really get a true feel for what the vehicle offers until you're in the driver's seat. If you have any questions about the 500X Blue Sky Edition, just write to us via our website or give us a call. Our friendly sales team is standing by, ready to answer your questions. And of course, you can always just stop by our dealership lot and ask to test drive this remarkable vehicle.