When you buy a Fiat, you'll get some protection for the car if problems arise through a warranty. All Fiat vehicles have a manufacturer's warranty when sold as new cars, regardless of the model and trim level. The type of warranty that you get will vary by car. Still, it will cover the basics such as defects in materials, safety components, and corrosion problems that may lead to parts wearing out sooner than expected and needing to be replaced. For full details on the warranty that comes with your Fiat, contact our dealership for more information.
What's Included in a Fiat Warranty?
At a minimum, your Fiat will come with a basic limited warranty. This warranty includes a four-year or 50,000-mile basic warranty covering all repairs required on your Fiat to correct workmanship problems, material defects, or issues related to factory-installed parts on your car. The basic warranty plan also includes a 12-month warranty, or up to 12,000 miles, of coverage for specific components such as the wiper blades and clutch discs if you have a manual transmission, brakes, windshield, etc., rear windows. This warranty also covers any wheel alignment or balancing that your car needs. The basic Fiat warranty also comes with a Federal Emission Warranty, which covers parts in the car's emissions system such as the exhaust manifold, air system control, ignition system, and more. These parts are covered for four years or 50,000 miles, whichever comes first. Other parts in the emissions system, including the powertrain control module and catalytic converter, are covered under warranty for up to 80,000 miles or eight years maximum. Be aware that this warranty is limited to no more than two years or 24,000 miles in some cases. Your Fiat's contract will provide you with details on your vehicle-specific warranty. A corrosion warranty is also included with variable terms. The Fiat warranty also comes with a four-year or unlimited mile roadside assistance plan, covering the costs of towing to the closest Fiat dealership and fuel delivery, lockout service, tire service, and jump-start assistance.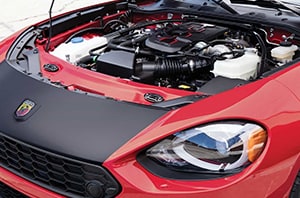 Suppose your car needs to have any repairs or parts replaced due to Fiat's manufacturing process issues. In that case, they will be covered at no cost, provided the warranty period is still in effect, and all repairs or replacements are made at an authorized Fiat facility. Along with the standard coverage you'll get with Fiat's warranty package, you can get additional content by purchasing a third-party extended warranty.
To find out more about Fiat's manufacturer warranty, contact our dealership today.