Karl Abarth's Legend Lives On
There's a real person behind the legendary Abarth line of vehicles by FIAT. His name was Karl Abarth, and he was an extraordinary visionary in the world of automotive design. Born in Austria, Abarth worked in the field of marketing and mechanics. His motorbike designs became world famous, and in 1959, he collaborated with FIAT to create the legendary FIAT 500. It was a huge success. Today there are still Abarth vehicles on the road, bearing the name of the visionary that started the line.
Today's New Legends
The Abarth line continues to this day with two new extraordinary feats: The new FIAT 500 Abarth and the FIAT 124 Spider Abarth. The 500 is an imposing and dominant figure in the world, with a striking appearance and brand new modern flourishes like red-accented bucket seats, 16-inch forged hyper black aluminum wheels and 160-HP 1.4L MULTIAIR° turbo engine that is simply as efficient as it gets.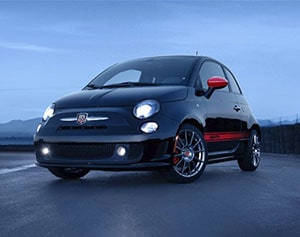 The FIAT 124 Spider Abarth is iconic as it gets, sporting a design that is as sporty as it gets that reveals its personality: An "Italian roadster from the top down." This is high style at its finest, and few people would argue that this isn't simply one of the sportiest, most elegant vehicles on the road at the moment. The engine features 164 horsepower and 184 pound-feet of torque, activating the torque at a much lower rpm than other vehicles on the road today, for an exhilarating drive that isn't to be matched anywhere else. The iconic racing stripe makes the Spider 124 a beautiful sight to behold, and it's certainly going to excite folks who love the thrill of race cars and the way that they look in this world.
All in all, the Abarth line of vehicles by FIAT is all about custom style, uniqueness, precision performance, and true blue originality. Abarth was capable of many great things in his time, and his legend lives on through the designs that FIAT turns out every year. It's a type of style and grace that you simply don't see in the automotive world much these days, a kind of classic modernity that only the truly exceptional drivers out there will appreciate. Our customers certainly love Abarth vehicles, as well as the FIAT brand, and we do our best to make sure that we turn out details of the new Abarth vehicles each year.
Test Drive an Abarth Today
If you enjoy what you've read here, these vehicles are readily available on our lot each and every year. The newest is there as soon as we can get them in (the moment FIAT releases them). We're excited about the new Abarths this year just like you are, so if you've like to test drive one, please just give us a call today and let us set you up with a full test drive. We'll let you get behind the wheel and feel the true pride that comes with owning one of these exceptional machines. At heart, that's what Abarth mastered: The machine. He learned to style that machine in his own unique way so that it blended in well with the personality of its owner and functioned precisely. That's the heritage of Abarth. Let us share this unique heritage with you by taking you out for a full test drive today.