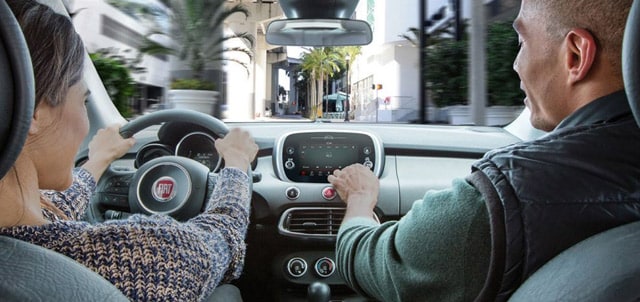 Connectivity That Entertains and Informs
Driving a car should be a pleasure, and nothing makes today's drive so pleasurable as the UConnect infotainment technology you find inside of select FIAT models. Superior connectivity apps are the wave of the future in vehicles, as people want to have access to their information and entertainment while in the car, but they also want to be able to stay in touch with their FIAT while they're away from it. Thanks to the software programs available on UConnect, you're always just one click away from your vehicle.
Learn about FIAT Connected Car Tech
The UConnect system is many software all rolled into one. They have a very noble goal of keeping you connected to your entertainment and vehicle/phone information. Your smartphone can be integrated with your UConnect system so that you have all of your contacts available. Use voice recognition technology to text or call your buddies or family members. Useful software like SiriusXM Guardian has a host of security and remote access features like Remote Vehicle Start. Imagine using your phone to start your car. Sound fun? Well, that's the kind of connectivity that UConnect tech is giving your FIAT.
Other Sirius software will keep your FIAT belting out the tunes on long road trips or short, sometimes dull, city commutes. Crank up that FIAT stereo and enjoy your favorite music and podcasts. The heart of UConnect's mission is right in its name. The system wants to make sure that you stay connected to the things that matter to you: safety, entertainment, friends, and family. FIAT adopted the UConnect platform as a way to help customers get the most out of their phone integration, a way to stay connected to their vehicle's functions, and a way to make it easier to enjoy the beautiful music that your UConnect will hook you up with. It's an entire smartphone right in your vehicle at all times.
Learn More About UConnect
Our dealership is a huge fan of the Connect platform. To find out if you have UConnect on your vehicle, just give us a call today. If you are on the prowl for a new car and want to know what models have UConnect standard or optional, you can call us today and find out what UConnect compatible vehicles we have in stock. Our friendly sales team here would also love to give you a full demonstration of UConnect. Just call to schedule a test drive of a UConnect compatible FIAT vehicle!