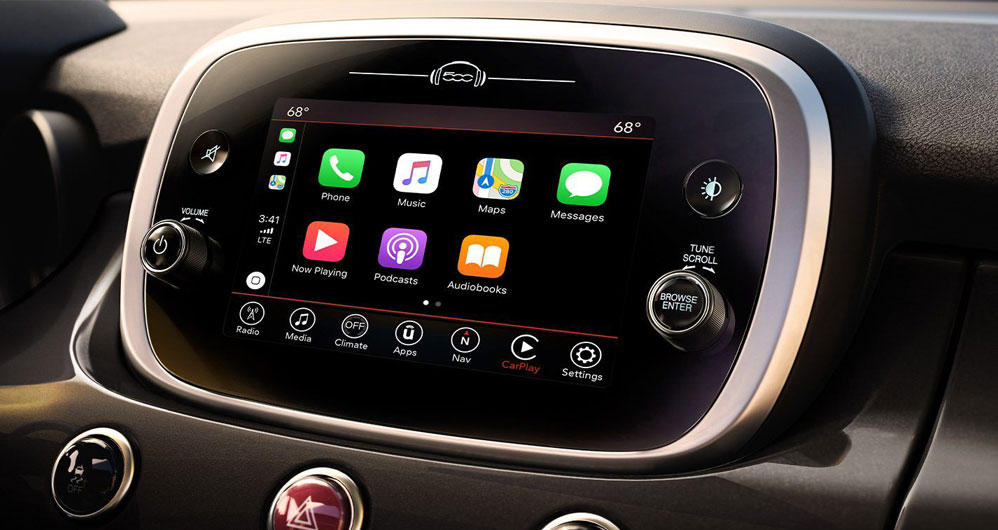 As smartphones have become synonymous with daily life assistants, vehicles have adapted to allow drivers and passengers the ability to use these phones for everything from navigating to playing music. Fiat's line of cars come fully outfitted with both Apple CarPlay and Android Auto, giving you the option to use your phone with your vehicle, regardless of the phone's operating system. This is how to use Apple CarPlay and Android Auto in your Fiat.
Apple CarPlay and Android Auto are assistant systems for your vehicle, which allows you to access features of your phone through the Fiat's infotainment system or simply through the phone itself. When the first versions of these systems came out, it was required for the phone to be connected to the car via a USB port. Apple and Google have upgraded the systems to connect with the car's WI-FI system. This provides the driver the ability to use his/her phone to access navigational GPS, play their music, or check their messages. This can all be done with voice commands or by using the car's interface.
For iPhone users, Fiat Apple CarPlay can be activated in two different ways depending on which model you own. The first method consists of connecting the iPhone to the car's USB port by plugging in a USB cable. Some models that have in-car WI-FI will allow the iPhone to connect wirelessly to the car. As Fiat cars come equipped with Apple CarPlay, the system will then launch on the infotainment screen. This will give you access to your phone's apps such as Siri, Spotify, and much more.
Google's aim with Fiat Android Auto is to increase safety and convenience by giving the driver and front-seat passenger access to its apps like Google Maps and Voice Assistant technology. In order to use Google's Android Auto in your Fiat, you will need to download the Android Auto app on your smartphone, as most models do not come with it pre-installed. Fiat's Android Auto compatibility can wirelessly connect with your smartphone that has the app.
Offering convenience and safety, Fiat's Apple CarPlay, and Android Auto compatibility provides a much more comfortable driving experience by working in conjunction with your phone. If you wish to learn more about this and other Fiat features, please contact us or visit our dealership today.