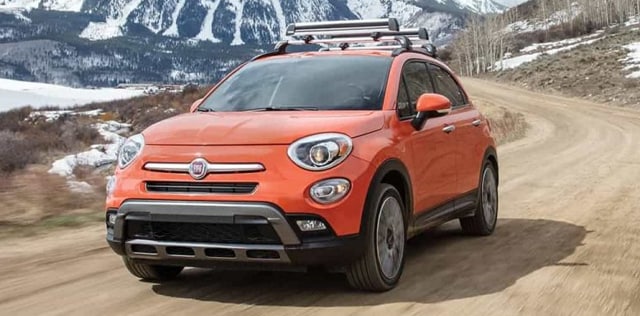 2018 FIAT
500X
Basic Warranty
✔ 4 yr./ 50,000 mi.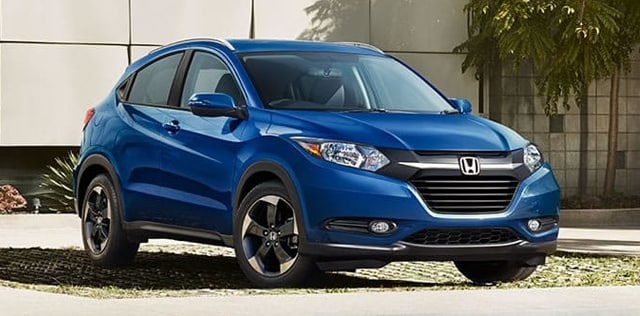 2018 Honda
HR-V
Basic Warranty
✖ 3 yr./ 36,000 mi.
The 2018 FIAT 500X and the Honda HR-V are compact cars that handle the road well and are favored for their reliability when you need a car to commute in or travel with your family. Both cars have excellent fuel efficiency and are ideal if you spend a lot of time on the road each day. When you are ready to become a new car owner, there are a few factors to compare when taking a close look at both compact SUVs.
Specs at a Glance
Exterior Features
The FIAT 500X has a high level of character for a small crossover vehicle with an Italian influence that stays true to the automaker's roots and looks more upscale than the Honda HR-V. The FIAT 500X features a chrome mustache underneath a clamshell hood and twin headlights. The vehicle rides firmly with strong traction that is provided by the front-wheel-drive. The AWD system also performs well at reducing friction and fuel consumption until it's needed for traction.
The Honda HR-V does not stand out as much as the FIAT 500X due to its subtle design that does not have any notable features that stand out. Its sporty exterior includes 17-inch machine-finished alloy wheels and light tinted glass on the windows. Its LED brake lights are one of the main highlights of the body, but may not be enough to convince drivers to choose the vehicle due to its underwhelming design. Additional features include a grille with a chrome bar, fully galvanized steel panels, a liftgate rear cargo access, fixed interval wipers, and a spare steel wheel.
Performance
The 2018 FIAT 500X is easily described as a fun car to drive due to its manual gearbox with powertrains that can be ordered with two transmissions, two drive options, and two engines. The base engine is built with a 160-horsepower turbo-4 and front wheel drive. The vehicle gets 28 combined miles per gallon, making it an ideal car to use on your commute or road trips.
The Honda HR-V has a history of providing exceptional reliability but comes with 141 horsepower, which is adequate but makes the car easy to pass by other vehicles on the road. It can take a while to drive up a hill due to the limited power that is available, and the transmission can drone under acceleration, making the FIAT 500X have more power and stability. Fortunately, the vehicle is steady and predictable even if it is one of the slower SUVs in the auto industry.
Technology/Gadgets
The 2018 FIAT 500X has great value due to the extensive features that are offered for each trim level. Each vehicle comes standard with a rearview camera, audio controls on the steering wheel, a seven-inch touchscreen display, and power mirrors and locks. Upper trim levels are constructed with 17-inch alloy wheels, leather seats, tinted glass, keyless entry, a heated steering wheel, trim embellishments, and a larger touchscreen that is six-inches wide.
One of the main tech features in the Honda HR-V is its base infotainment system and its user-friendly knobs and controls. A USB port, Bluetooth audio streaming, and a touchscreen are included in the base model, which means there are fewer gadgets included compared to the FIAT 500X. The EX and EX-L Navi trims feature menus and touchscreen controls that can be challenging to use for the average driver.
If you want to learn more about how the 2018 FIAT 500X compares to the Honda HR-V, contact our dealership to schedule a test drive. We will provide you with more information and can show you around our large inventory of vehicles.
Question? We Can Help
Make an Inquiry
* Indicates a required field
MSRP

:

$35,035

Price

:

$33,035

Price

:

$31,035
Drive Line: All-Wheel Drive
,
Engine: 1.3L I-4 cyl
,
Transmission: 9 speed automatic
,
Exterior Color: Bianco Gelato (White)
,
Interior Color: CLX9
,
Stock Number: NP974155
,
VIN: ZFBNF3C14NP974155
View Details
MSRP

:

$35,035

Price

:

$33,035

Price

:

$31,035
Drive Line: All-Wheel Drive
,
Engine: 1.3L I-4 cyl
,
Transmission: 9 speed automatic
,
Exterior Color: Bianco Gelato (White)
,
Interior Color: CLX9
,
Stock Number: NP974155
,
VIN: ZFBNF3C14NP974155
View Details