About Fiat of Scottsdale 500 Reviews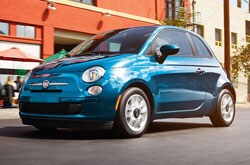 2015 Fiat 500 and 500c reviews say this Italian subcompact makes a distinctive statement with pert and upright styling, characteristic of a continental sensibility. The narrow, twisting streets of the quaint villages and grand old cities of Europe predate the automobile by centuries.
Compactness is a virtue in such a place, and indeed it is in any urban environment. Here, the streets are considerably wider, unless they are undergoing construction - which is frequent. In America, the parking spots may be wider, unless you have to squeeze into a slot between two giant SUVs - which is also frequent. The small footprint, tight turning radius and fuel-sipping four cylinder engine of the 2015 Fiat 500 makes it the perfect car for city life.
Check out the 2015 Fiat 500 and 500c in Scottsdale. There are three primary trims for the Fiat 500-Pop, Sport, and Lounge. Moving to the Fiat 500c, you get a retractable soft top roof. In a unique approach, the 500c's roof retracts just the center section, leaving the metal sides and pillars of the standard 500. The 500c is also offered in Pop and Lounge variants, with the same equipment as standard coupe versions. A choice of automatic or manual transmission is offered throughout the lineup.
Base 500 Pop models include a five-speed manual transmission, 15-inch wheels, air conditioning, a CD player with an auxiliary audio jack, power windows/locks/mirrors, and cruise control. Sport models get larger 16-inch wheels, a fixed glass roof, a sport-tuned suspension and sport-bolstered seats. Fiat 500 Lounge models keep the glass roof but add a six-speed automatic and rear park assist, along with satellite radio, premium speakers and a leather-wrapped steering wheel.
Part of the fun of a Fiat lies in the choices for customization: 15 exterior colors, 15 different seat color and materials options, and 50 accessories. With a long list of exterior colors, different seat color and materials options, as well as accessories, you'll be able to make your Fiat your own in a way that can't be done with more button-down one-size-fits all, cookie-cutter cars.
The Fiat 500 offers standard dual front, side and curtain airbags; it also includes a driver knee airbag. And in addition to the anti-lock brakes, stability and traction control, there's a hill-hold feature that's pretty handy in the city. With its playful attitude, impressive list of colors and features, attractive price and good fuel economy, the Fiat 500 offers a lot. See a 2015 Fiat 500 or 500c in Scottsdale at Fiat of Scottsdale. Our 2015 Fiat 500 review continues below.