Scottsdale Fiat Dealership Reviews the New 500 Abarth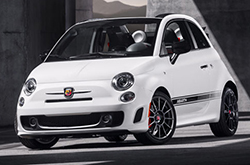 The 2016 Fiat 500 Abarth has been only slightly updated for the new model year. The high-end 500 model receives a new tech feature, but is otherwise unmodified. As per usual, the Abarth continues to deliver optimal performance that surpasses other models in the 500 lineup and comes with sporty features that support its power. It also features several attractive amenities and offers two bundle options, the Comfort and Convenience package and Beats Audio package, which further improve the car's overall appeal. To learn more about the new Abarth model, please keep reading our 2016 Fiat 500 Abarth review below.
Featuring 16-inch wheels, unique interior and exterior designs, a sporty suspension and an Alpine stereo, the 2016 Fiat 500 Abarth in Scottsdale is a highly attractive vehicle. In addition to the standard Abarth, buyers can choose to purchase the Abarth convertible, which comes with an optional windscreen and standard rear parking sensors. If you want to add a little extra to the Abarth, you can tack on the Comfort and Convenience package or the Beats Audio package; each come with excellent features. The Comfort and Convenience Package features heated seat, satellite radio and automatic climate control, while the Beats Audio package adds on the Beats Audio system and satellite radio.
Outfitted with a turbocharged 1.4L four-cylinder engine, the manual-equipped 2016 Fiat 500X in Scottsdale delivers 160 horsepower and 170 lb.-ft. of torque. When fitted with the six-speed automatic, the engine generates 157 horsepower and 183 lb.-ft. of torque instead. With a 0 to 60 mph sprint in just 7.1 seconds, the manual 500 Abarth is the faster model; however, the automatic Abarth can still go from 0 to 60 mph in 7.5 seconds. Both are great times and show just how much power the Abarth can deliver.
Want to discover extra details about the Fiat 500 Abarth? Continue browsing our 2016 Fiat 500 Abarth review below.