Fiat 500L Review for 2016 Model Year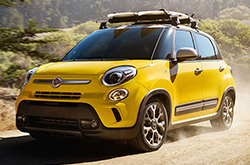 The 2016 Fiat 500L is a top pick in the small wagon segment. Its Italian styling makes it a unique choice in its class compared to other models. For the new model year, the 500L is completely unchanged, but it still offers all the same great features previously available on the 2015 model. As before, the wagon offers extensive interior and cargo space, provides excellent outward visibility and is available with an easy-to-use touchscreen interface. If you want to learn more about this model, please read our 2016 Fiat 500L review below, which includes a variety of details.
Offering an extra 2 feet of space and two additional doors, the 2016 Fiat 500L in Scottsdale is a great option for buyers who love the Fiat 500, but are in need of more seating and cargo room. The model, which is available in five trims - Pop, Easy, Trekking, Urbana Trekking and Lounge - comes with 60/40 sliding seats, 68 cubic feet of maximum cargo space, a modern dashboard design and an array of features. Depending on the model you choose, the car is equipped with 16-inch alloy wheels, a six-speaker sound system, a two-tone interior color combo, Bluetooth connectivity, rear parking sensors, automatic climate control and a rearview camera.
A turbocharged 1.4L four-cylinder engine is outfitted on the 2016 Fiat 500L in Scottsdale, and has the ability to generate 160 horsepower and 184 lb.-ft. of torque. Either a six-speed manual or six-speed automated-manual transmission is paired with the powerplant, depending on which trim you purchase. With the manual, the car can produce an EPA-estimated 28 mpg combined, 25 city and 33 highway, while the six-speed automatic delivers 25 mpg combined, 22 city and 30 highway. The Trekking model can also go from 0 to 60 mph in 8.5 seconds, which is a decent time for its class.
Want to find out more info about the new 500L? Scroll down and continue reading our 2016 Fiat 500L review.