Fiat AC Repair in Scottsdale, AZ
When you cruise around the Scottsdale area in your Fiat most days of the year, you need the AC system to function well so that you and your passengers are safe and comfortable. After all, temperatures in the local area are often warm, and there are many days when it is scorching outside. While your Fiat's AC system has been well-designed to hold up to regular use, any mechanical features can eventually get dirty or wear out. If you have noticed any signs of trouble with your Fiat's air conditioner, now is a great time to set up repair service with our dealership's certified auto repair technicians.
Can You Increase the Airflow Through the AC Vents?
You may only need a low stream of air through the vents while driving your car some days, but your comfort in the car may require an intensely powerful flow on other days. If you have been growing increasingly frustrated by low airflow, rest assured that we can help. We will first identify the cause of the problem, which could be hose or seal damage, mold growth on the evaporator or another issue. Once we have identified the weak airflow cause, we can quickly complete the repair service.
The Air From the AC System in My Fiat is Too Warm. Can You Fix This?

When your Fiat's air conditioner is in good condition, you will enjoy a comfortable stream of chilled air as desired. If your system is only blowing warm air, it may have a Freon leak, a broken vacuum seal, a damaged condenser or blower, a broken compressor or other areas of concern. Some Fiat AC systems will generate chilled air for a minute before the air begins to grow warmer. Damage to the compressor clutch, valves, seals or fuses could create this type of AC situation. If you are dissatisfied or frustrated with the air temperature from your Fiat's air conditioner, the first step to take to remedy the issue is to contact us for professional diagnostic service.
I Am Concerned About a Leak in My Car's Air Conditioner. How Serious Is This Problem?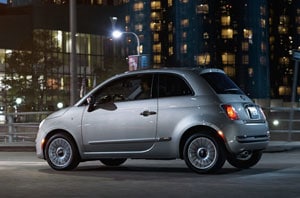 As soon as you identify signs of an AC system leak, you should contact our technicians for repair work. While a leak may allow air and fluids to escape, it also can allow moisture to enter the system. Refrigerant can become highly-corrosive when it comes in contact with this moisture, and this means that the air conditioner can be irreversibly corroded. Essentially, a minor leak that is not quickly repaired could create so much damage that the system needs to be replaced. When we diagnose your AC system's leak, we will confirm the presence and location of the leak as a first step in the repair effort.
My Air Conditioner Has an Unbearable and Embarrassing Smell?
Temperature and airflow are common issues with car air conditioners, and a bad smell is also a common problem. As soon as you turn the Fiat's air conditioner on, you may notice an unpleasant smell that reminds you of rotten eggs or other stinky items. This is often caused by a dirty air filter or mold growth on the evaporator case. This mold growth usually begins when a drain line is backed up and the evaporator case becomes increasingly wet. Whether your AC system needs the drain line and mold cleaned or it needs a new air filter, we are available to provide you with fast service. In fact, we can assist with any AC repair needs. Contact us today to request an appointment.
Service Hours
Monday

7:00am - 6:00pm

Tuesday

7:00am - 6:00pm

Wednesday

7:00am - 6:00pm

Thursday

7:00am - 6:00pm

Friday

7:00am - 6:00pm

Saturday

7:00am - 4:00pm

Sunday

Closed