Are You Wondering, Where Can I Find a FIAT Transmission Specialist Near Me?
Fiat vehicles are sleek and stylish, safe and secure, and designed to provide owners with unlimited years of smooth operation. However, as the vehicle begins to age, wear and tear can cause the need for repairs. Transmission trouble is something that most drivers will experience as their vehicle ages. The transmission is a very important component of your vehicle. If there are problems with the transmission, the vehicle's entire operation is compromised. Furthermore, these problems can and will destroy the transmission if not properly repaired. Use the information below to help determine if you need transmission maintenance and do not hesitate to schedule service when problems are noted.
When Should I Change My Vehicle's Transmission Fluid?
No matter what make or model vehicle you drive, a regular transmission fluid change is necessary to keep the car running its best. When transmission fluid ages, it begins to deteriorate, leaving your transmission vulnerable to an array of problems. Regular transmission fluid changes alleviate these worries and help prevent breakdown. The necessary transmission fluid change schedule varies from one vehicle to the next but it is generally recommended that the change take place every 36,000 miles or every three-years. Follow the instructions in your owner's manual to determine how often to schedule this service.
Is It Really Important to Change the Transmission Fluid?

It is very important to change the transmission fluid in your vehicle as recommended by the manufacturer. Regular transmission fluid changes keep your vehicle operating smoothly and efficiently and reduces the need for expensive repairs.
Can I Change My Own Transmission Fluid?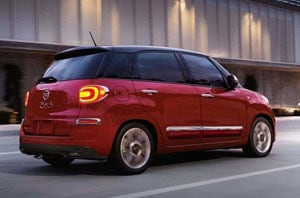 You can change the transmission fluid in your car on your own if you wish, but it makes more sense to schedule service with our factory-trained technicians instead. We have the skills to properly change the transmission fluid and dispose of the old fluids. We charge competitive rates and save you time, energy, and headache.
What are the Signs of Transmission Trouble?
Many signs point to trouble with the transmission. Do not ignore these signs because it only causes more damage to make such a decision. Some of the most common signs of transmission trouble include a slipping transmission, trouble changing gears, fluid burning smell, and leaking fluids. Contact us today at FIAT of Scottsdale to schedule a service with our outstanding service team.
Service Hours
Monday

7:00am - 6:00pm

Tuesday

7:00am - 6:00pm

Wednesday

7:00am - 6:00pm

Thursday

7:00am - 6:00pm

Friday

7:00am - 6:00pm

Saturday

7:00am - 4:00pm

Sunday

Closed